Teaching for Mastery
Teaching for Mastery – Secondary
We have 3 Secondary Specialists who about to embark on their training year while they are embedding mastery in their own settings.  The schools involved in this are: Teddington, Waldegrave, Twickenham Academy (Richmond West Schools Trust) and Sacred Heart.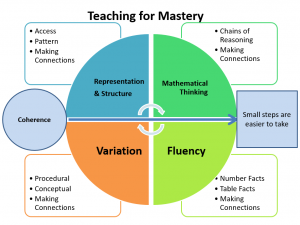 Later on this year they will be holding Teacher Research Groups and if you want to be involved in these then please email michelle.foster@lcwmathshub.co.uk
To apply to be a Secondary Specialist (to start in either April or September) please apply here: https://www.ncetm.org.uk/news/51599
Read below a blog entry from a Secondary Mastery Specialist:
December 2017 Blog Entry 1:  Rationale behind 'Teaching for mastery Secondary'
This year I have started my journey into the mastery approach to mathematics! Mastery has been a buzz word for the last few years with many primary schools adopting the approach but, I have heard that secondary teachers are not so keen. I can completely understand the rationale behind the mastery style of teaching; I could not however understand how it worked in practice
Mastery:
Sufficiently understanding maths so that it is embedded and students are able to make connections between mathematical ideas.
All pupils should work together on the same content (this maybe at different levels)
Pupils should "master" concepts before moving onto the next idea
Lessons are focused on taking small steps towards a learning journey where all ideas are interlinked
My understanding of mastery is that it is just good teaching. Learning maths shouldn't be like learning pockets of random knowledge, but a tunnel where everything comes from something concrete that we can all understand. This means that, prior to teaching a topic, the teacher must understand what students need to know before they learn something and how that links with this prior knowledge. Does this mean that teachers need better subject knowledge?
As part of the maths hub, I am taking part in a programme which entails creating a work group of secondary school teachers, who will develop their own, and their departments', approaches to mastery.
During our first training weekend as a hub we considered how we can rethink the way we plan our lessons. We created a document in which we took a very small part of the curriculum, e.g. surface area of a cone, and thought about the standard and non-standard (the same question presented differently to how a student might expect) examples which could be in an exam or worksheet. To me, this is what everyone should be doing within a lesson. This shows different ways a topic can be presented and is critical in checking students have sufficiently understood a concept.
The next part of our training involved looking at "what it isn't". I can see this working in two ways: firstly as an opportunity to address key misconceptions students might have in lesson; secondly this could be a useful way of showing when something does not work, i.e Pythagoras cannot be applied to non-right angles triangles. Within my department this was something that people had thought about prior to a lesson and could maybe overcome a key issue in exams. The final, very crucial, stage was looking at problem solving and how it links to all areas of maths, which is the essence of what the mastery approach is all about.
The project has excited me because if we had this for any lesson we needed to teach in KS3 and KS4 we would always be able to plan great lessons which build on every area of maths and students would gain a deeper understanding of maths,  be able make better connections and achieve more.
Problem: It takes a lot of time to create these documents for every single little lesson that we have to teach. It takes lots of minds thinking hard together!
Solution: As part of the London West and Central Hub we are splitting this work up and sharing out these resources. Thus, creating our project for the year- I will keep you updated.