NCETM Accredited PD Lead Programmes (Early Years, Primary, Secondary, Core Maths and Advanced Level Mathematics)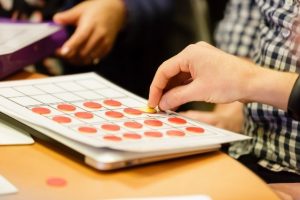 (Applications for 2021-22 are now open. Deadline is 28th May. Please see here for information)
This programme is designed to offer development and support to teachers interested in leading the professional development of other teachers. The year-long programme involves 3 workshop days, academic reading, designing, planning, running and evaluating a PD programme for other teachers and reflecting on the whole process of developing as a PD Lead. Successful completion of the programme results in NCETM 'Professional Development Lead' accreditation and all those accredited will join a growing pool of Local Leaders in Mathematics Education working within their local Maths Hub area.
Who is this for?
Teachers with some experience of leading the professional development of other teachers, either in their own school/college, or more widely.  Participants are required to have the willingness and capacity to work with teachers in other schools/colleges locally.
Participants will be expected to commit to the full programme of activities and will need the support of their organisation to support and enable full participation.
What is involved?
3 days of workshops with other teachers on the programme
Independent study and school-based work
Online discussion as part of a professional community
The design, planning, running and evaluation of a PD programme for other teachers
Completion of a 'Programme Planning and Evaluation Template', a 'Session Planning and Evaluation Template' and a 'PD Lead Programme Reflection and Learning Journal' to demonstrate high quality planning, evaluation and reflection
Support and mentoring from Work Group Lead
Intended Outcomes
Consider some key questions related to the nature and quality of effective professional development activities and programmes.
Examine fundamental themes and issues in mathematics and mathematics teaching (including those related to the National Curriculum, exam syllabi and teaching for mastery) and to consider the implications of these when supporting other teachers.
Learn to plan, execute and evaluate effective CPD sessions, Work Groups, projects and programmes.
If you want more information about how to apply – please click here.