What is a Work Group?
What is a Work Group?
Work Groups bring senior leaders and maths teachers together multiple times during the school year, rather than being just a one-off course. There is a common aim which is to research, develop, practise and recognise best practice. The emphasis is on collaborative, exploratory, evidence-based professional development and research, continuing through the whole year for substantial professional and systemic change: these are not top-down, one-off courses.
These Work Groups are made up of a group of schools working on a particular focus together and this involves multiple sessions (between 3-7 throughout the year). Mostly this will involve two teachers from the same school however it will depend on the Work Group and will be mentioned in the flyer.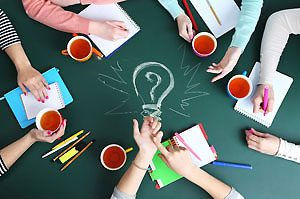 The Work Groups are delivered through locally-based Work Groups led by an expert, in which participants contribute to and learn from the national project. Each Maths Hub puts together its own programme of Work Groups to run locally, and many projects have Work Groups in all Maths Hubs, making them available to anyone who wants to join.
While the majority of Work Groups are offered to any teachers, teaching assistants and practitioners who wish to join, there are some which are only in certain geographical locations, which require previous participation in a project or which do not have open recruitment.
Normally the Work Groups are part of a national collaborative project, which means the Work Group Lead will be working with other Leads up and down the country running the same project. They will support each other and learn each year from Work Groups run to ensure the following years get even better.
The NCETM works with Maths Hubs each year to decide the focus of individual Work Groups that will be run across the country for the academic year. These projects are called National Collaborative Projects.
Individual Hubs also have the opportunity to lead Innovation groups, which are responding to a local need they have noticed. This then may lead to a National project in future years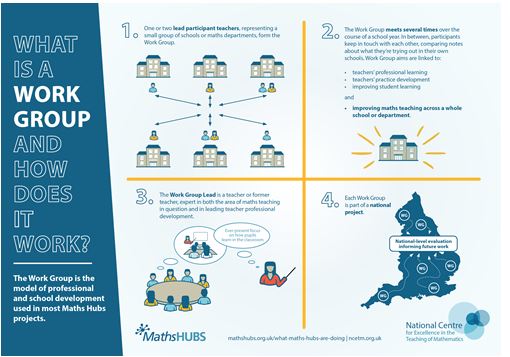 Every Work Group will:
-Work towards four main outcomes: professional learning, practice development, whole school approaches/policies and pupil outcomes.
-Focus on the classroom with planning and observing lessons taking a central place and real collaboration happens within the group.
-Have a strong eye on evaluating the impact of the Work Group and its activity so that those reflections and evidence feed into the national picture.